Since I started doing my PhD Research, I learnt a lot of new concepts, but I don't like to write down everything that I find interesting during my research. I find it too boring. I prefer to rely on my memory filter; if it's relevant, I'll remember when needed. But, gosh, that's not always the case…
Good papers do clever articulation with different authors. My Master supervisor taught me to think about papers as a space where authors dialogued. He said I need to be very careful to find shared concepts between them that could be put in relation. Also, the dialogue should have a smooth flow as a narrative.
First, I tried organizing my notes with mind maps using Xmind, but I didn't felt confortable with having a single central topic. More often than not, I can only figure out the main point of my research after I finish doing the literature review. I think mind maps are good to map something that you already know, but it's not good to work with the unknown.
Then, I discovered a tool that really fit's into what I need. Compendium (and its open source counterpart CompendiumNG) is a tool developed to map argumentation in dialogues. I read a nice book on how to use to map meetings with many people, but by now I'm using just for myself.
I started mapping my research questions and, as long as I get possible answers to that, I mapped them as ideas that possibly answered that question. I like the freedom the tool offers to move things around and link them in any way I want.
After that nice experience, I started using it for mapping my literature review. I can easily drag and drop PDFs into the map. I can connect ideas and questions to them by using arrows. Then, I can map which ideas are shared among each reference.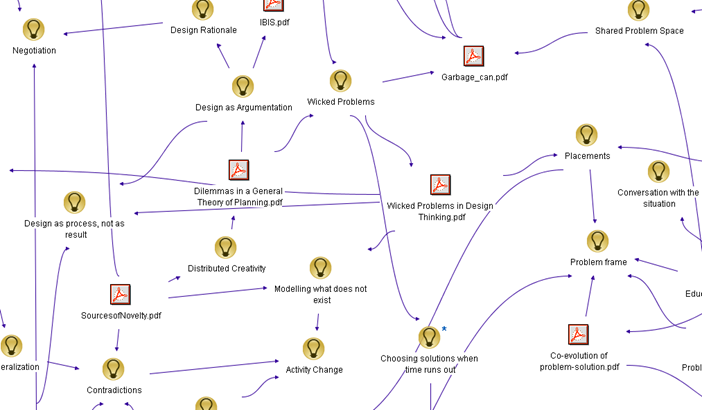 I haven't written a paper based on that map yet, but I'm already very happy on how it got things clearer in my mind!