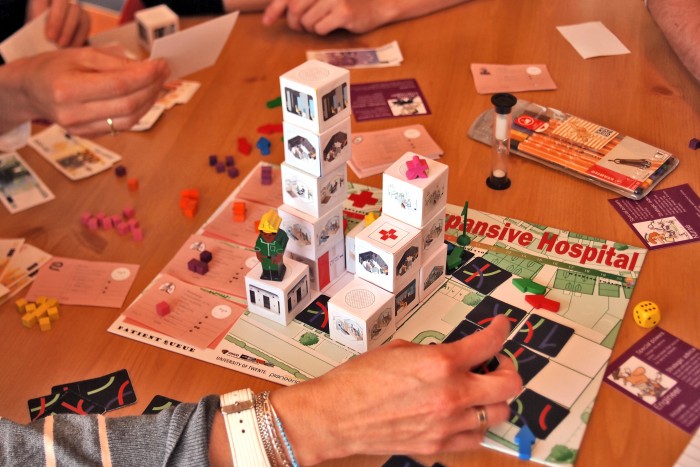 The Expansive Hospital is a board game in which players collaborate and compete to build a hospital with plastic blocks. The game design is based on research conducted with three healthcare construction projects in the Netherlands, commissioned by Pioneering. The research found that hospital design is often over schedule due to the conflicts of interests between the multiple parties involved. The game reproduces some of these conflicts, such as the engineer wanting to build more pipes than needed whiles the architect wanting to build a high-rise building. If the conflict is not resolved between the players, patient satisfaction drops, together with the hospital income. Playing the game is an opportunity to learn the importance and the difficulties of designing for healthcare performance while having fun with the artificial conflict enactment.
Players have to build and treat patients at the same time, since the hospital is under constant expansion. There are many different kinds of patients and plastic blocks necessary to treat them. Designing the blocks is difficult because each player is responsible for one aspect of it: architect, engineer, contractor, nurse, facility manager or director.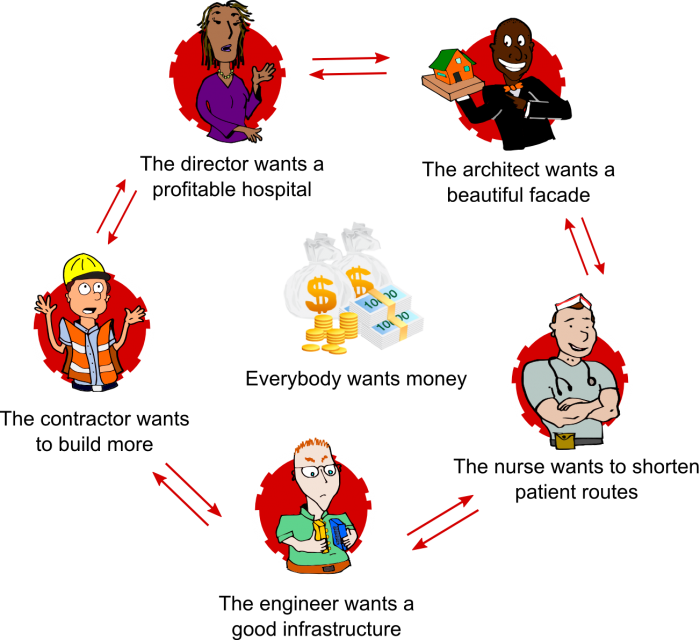 A poor design allows for earning more money but contributes to the hospital bankruptcy, in which case everybody loses the game. The gist of the game is to find a balance between the need to join forces and the greed for money.
The game highlights the conflicts of interests around information storing and sharing, a key feature of collaboration. Some players forget to store information, some hide information, and some take the initiative to create shared repositories of information. It is possible to see through the game the impact of personal strategies, official roles, construction contracts, and databases in information sharing practices. If the players succeed in the game, they learn how to deal quickly with the conflict of interests that are inherent to this kind of collaboration.
Find out more in the official website.
References
Van Amstel, Frederick M.C. (2021). The role of games in developing transformative agency. Brazilian Journal of Socio-Historical-Cultural Research and Activity, 3(2). https://fredvanamstel.com/journal/the-role-of-games-in-developing-transformative-agency
Amstel, F. M.C. van; Zerjav, V; Hartmann, T; Dewulf, G.P.M.R; Voort, M.C. van der. 2016. Expensive or expansive? Learning the value of boundary crossing in design projects. Engineering Project Organization Journal, 6 (1), Pages 15-29. DOI: https://doi.org/10.1080/21573727.2015.1117974