Co-creation of an Interaction Installation for the 2nd International Innovative Cities Conference, held in Curitiba, Brazil. The main conference's theme was about the responsibility of individual's action on the macro scale, bringing speakers like Fritjof Capra, Steven Johnson, and Jaime Lerner to discuss it.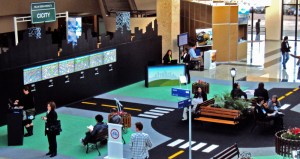 The main hall of the conference had an interactive wall with a game-like city completely empty. As participants entered the talk rooms, the city changed according to the room's theme, reflecting the concentration of collective intelligence. At the end of the conference, the most developed aspect of the city was governance transparency, represented by glass walls on public buildings.
The project was developed by FIEP, Faber-Ludens Institute and 4Gennius. My role on the team was to synthesize the discussions in tangible outputs, like the following sketch.