Theater of the Techno-Oppressed is an outreach activity offered to UTFPR's local community. The activity aims at raising critical consciousness about the role of technology in our everyday life, in particular, the way it constrains our bodies to certain physical and/or political postures that accepts oppression as an inevitable deed.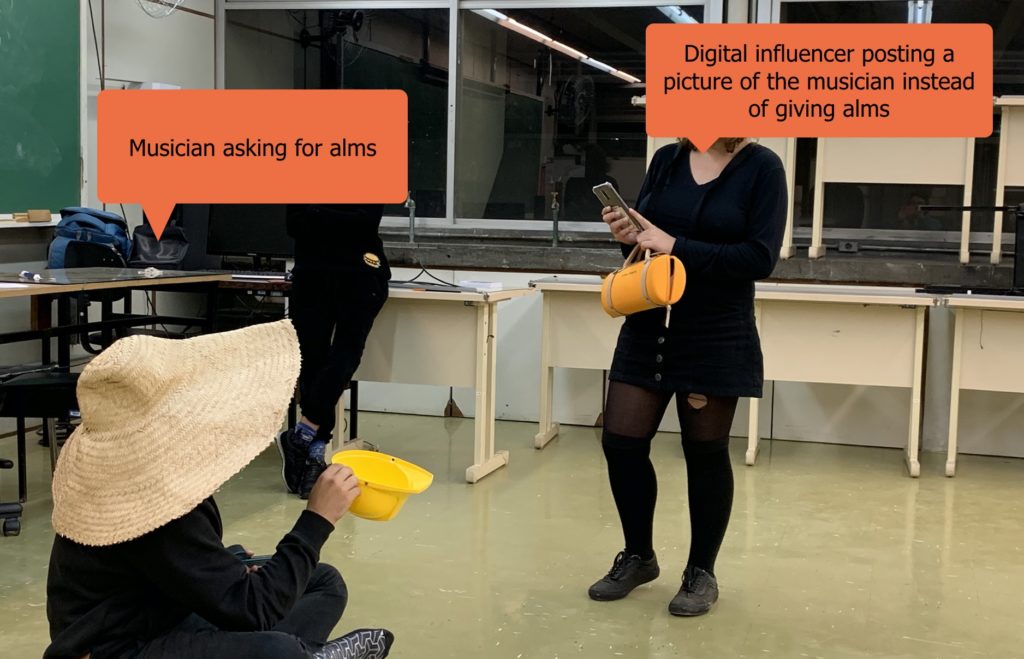 There is nothing inherently good in technology, despite all the hype and hope around it. Often in human history, technology is used to intensify oppressions such as xenophobia, sexism, and racism. Social movements, activist groups, and oppressed people need to be aware of how technology does that and, especially, how it uncovers that under the pretext of neutrality.
The Theater of the Techno-Oppressed extends the Theater of the Oppressed arsenal developed by Augusto Boal in the 1970s to fight oppression in Latin America and other parts of the world. Informed by Science, Technology, and Society (STS) studies and instrumentalized by some practices from Embodied Interaction Design, the concept of techno-oppression points to the role of technology in mediating oppression relations between privileged and disenfranchised social groups.
Impersonating the technology
Impersonating the technology is crucial to realizing its functionalities, biases, and infrastructure. The actor impersonator acts like a scripted robot, a virtual assistant, or a physical machine towards the other actors. They, in turn, interact with the technology through the metaphorical body interface: they get information from the technology (inter)face, they pull arms as if they were levers, they press the chest as if they were buttons, and they talk to technologies as if they accepted voice commands. The oppressive nature of the interaction typically becomes clearer when the designer shows up on stage and discloses his/her intentions when redesigning the technology to mitigate oppression reactions.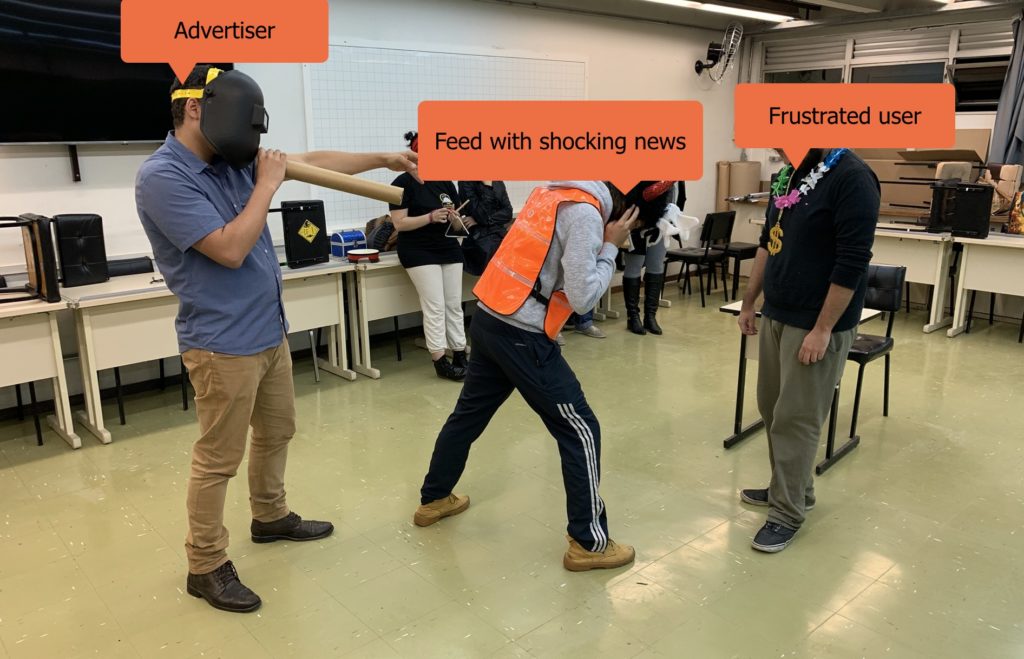 The participants of this activity use theater techniques to identify, analyze, discuss, and elaborate reactions to oppressive interactions they have while using a certain kind of technology. These activities help them to see themselves not just as users, but as producers of technology. This shift is essential for putting liberation on the political agenda of technology development.
Post-pandemic Theater of the Techno-Oppressed
After 2020, the outreach activity that often led to participants realizing they were relying too much on digital technology had to rely on digital technology itself. We integrated Jitsi, SnapCamera, StreamYard, and Youtube in an artful way to provide a similar theater experience.
The Design & Oppression network produced a Forum Theater play on platform work and precarity in the USP design academic week of 2020. Young design students joined the forum to discuss the dystopian future of their profession while considering the dystopian present of other professions. The main plot consisted of an Artificial Intelligence that claimed to design automatic visual identities for its clients but that just delegated the design work to platform workers, precarious designers who earned a few bucks but believed to be entrepreneurs.
Instead of delivering an invited talk in the UTFPR's Informatics student week of 2021, Rodrigo Fresse Gonzatto, Claudia Bordin Rodrigues and Frederick van Amstel performed an invisible theater on the over-reliance on Google Suite in current Brazilian public education. The students had to opportunity to reflect on the political and pedagogic implications of using these technologies even if they are cheap or currently offered for free.